At StealthBond, we take great pride in the community that we are a part of, and giving back to that community is extremely important to us. Everyone on our diverse team has their own unique perspective on the needs felt by our fellow Texans, and those needs are often the most serious during the Christmas season. This year, children all across the state will be not be able to receive the gifts that many of us take for granted, and we want to change that.
This year, StealthBond is teaming up with the Roofing Contractors Association of Texas (RCAT) to raise funds for the Marine Toys for Tots Foundation. RCAT is a National Corporate Sponsor for the Toys for Tots holiday gift drive, and has set a goal of donating 1,000 bicycles (with helmets) to give to disadvantaged children as gifts this year. These gift sets will cost $125.00 each. To achieve this goal, RCAT is seeking donation for that amount. Of course, donations of other amounts are also welcome. Every penny helps!
As a member and partner of RCAT, we at StealthBond are joining in this mission, assisting them in their path to 1,000 bicycles this Christmas. But we need your help! Our hope is that other members of our community (like you) will pitch in and help us reach this goal!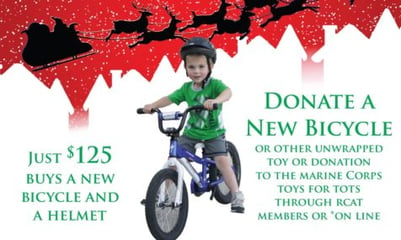 It might not feel like a monumental action, but the sum of each of our small actions has the potential to do something truly incredible this Christmas! However, nothing will happen at all if each of us does not do our part to help.
At SteathBond, we're doing our part, and we invite you to join us.
If you're interested in donating to help us reach our goal of 1,000 bicycles, you read more about our gift drive HERE. If you don't have money to donate, we are also searching for donations in the form of unwrapped gifts! So if you've got unused toys laying around the house, we'll take them off your hands!
From all of us here at StealthBond, have a merry Christmas and a happy holiday season!