Installing a new roof shouldn't be challenging. Your roof makes up a majority of your home's exterior and lends itself heavily to the design and composition. The roof, much like other external elements of the house needs to serve two purposes: function and design. What most homeowners don't realize is the flexibility and choices they have by choosing to install a metal roofing system. At StealthBond®, we want to make it easier to get a metal roof that not only outperforms other options on the market but offers a level of sophistication.
About the StealthBond® System
StealthBond® is the first metal roofing installation system to utilize a structural adhesive. The technology of the adhesive allows for a fastener-free installation. What does that mean? No unsightly screws that are common with traditional metal roofing installation. What you get with the StealthBond® Installation System:
No surface penetrating fasteners

No corrosion or staining from screw-hole shavings

Reduces oil canning and dimpling from screw tension

Trusted Authorized StealthBond Installer®

A system backed by Gibraltar Industries
Modern Look and Design
It's important for homeowners to feel their new roofing system not only withstands harsh elements but compliments the design and improves curb appeal. With the StealthBond® System you can achieve a balance of functionality and a modern look unlike anything else on the market.
The patented StealthBond® Installation system includes three major components that contribute to style and function:
StealthConnector®: The metal stripping is attached to the decking using ring shank nails. The StealthBond® Adhesive is applied to the StealthConnector® in the center to the length of the panel.
StealthBond® Adhesive: is a 2- part epoxy that replaces the need for thru fasteners like screws. It secures the metal roofing panels in place.
StealthBond® Metal Roofing: Metal roofing panels are available in a variety of styles and colors.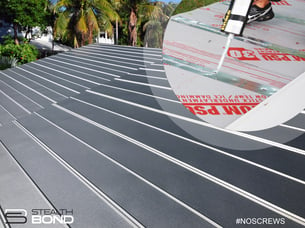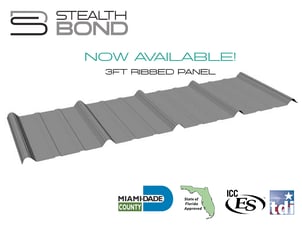 You Have a Choice
You are probably reading this blog thinking:
Wow, they are gluing down roofs now?

Does this even work? How would I know?

Why does it matter how it is installed?
We want homeowners interested in StealthBond® to understand that our system was developed out of many homeowners wanting a solution to fastener failure and contractors wanting to give their customers the look they want ( 5V Crimp Panel without the screws) for their home. Our adhesive installation answers a huge problem with metal roofing installation AND we have completed all the testing and approvals needed to give you peace of mind when choosing StealthBond®. You have a choice in your roofing installation system that goes beyond color and profile preference. Choose the system you can rely on. Choose StealthBond®.
Learn more about the StealthBond® Metal Roofing by visiting our website.