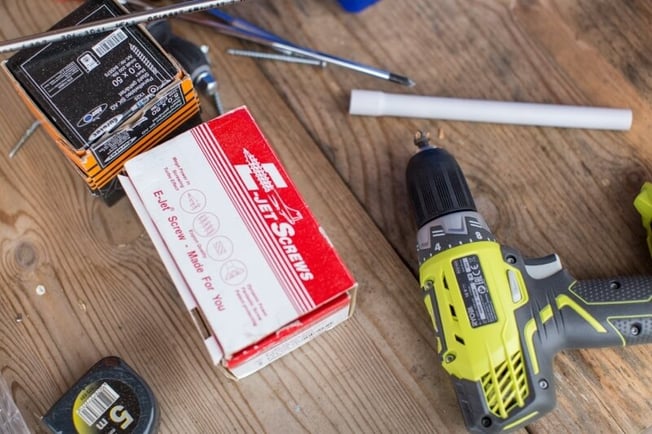 The construction industry has relied on various types of screw fasteners to build just about every home and high-rise building you see. While screws are commonly used in the construction industry, are they always required when it comes to installing metal roofing panels?
Typically an architect or builder decides on a specific look for a project, including the roof. Homeowners who get to choose the type of metal roofing material they want (be it asphalt shingles, tile, or metal) generally lean toward aesthetics with little interest in how the roof will be installed. But, roof maintenance and performance after installation should rank pretty high on a homeowner's selection of roofing materials.
The Problem with Metal Roof Screw Fasteners
Predominant in coastal areas, the 5V Crimp metal roofing panel has long been the look of choice. This profile offers homeowners a "Key West" appearance and is available in the classic galvanized steel look, as well as a variety of colors.
Despite its popularity, roofing contractors often steer homeowners away from using the 5V Crimp metal roofing panel due to the substantial number of screws required for installation. These screws create holes in both the metal roofing panels and the roof deck. Not only does this take away from the beauty of the 5V Crimp panel, but each screw penetration through the metal and into the roof deck is a potential leak.
So in this case, the multi-use metal roof screw fastener gets a bad rap. From the perspective of roof maintenance, homeowners should be aware that over time these screw fasteners have a tendency to back out of the decking, creating the potential for leaks. Additionally, if not correctly installed (too loose or too tight—see figure A below) screw fasteners can be the source of leaks early in the roof's life cycle, or the washer can fail prematurely.
Figure A: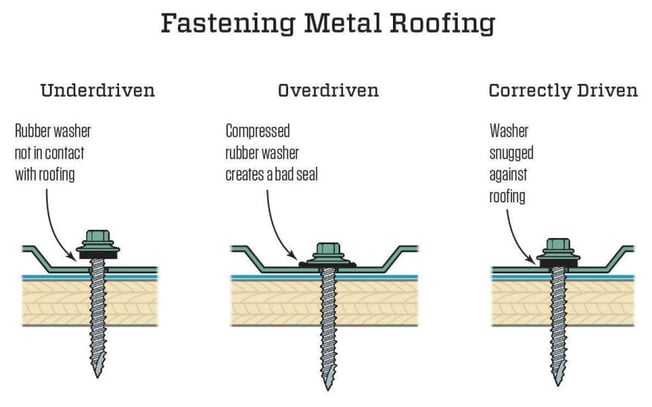 Ultimately the use of screws in exposed fastener metal roofing can be risky.
StealthBond© eliminates the need for screws and replaces them with a structural adhesive. For the first time in the roofing industry, metal roofing profiles that required exposed screw fasteners for installation can now be installed without them, eliminating the potential damages caused by fastener failure.
StealthBond© is the Next Generation of Installation©
---
Want more information on StealthBond©? It's easy!
Text NOSCREWS to 84700 today and receive sales sheets and updates on StealthBond© products and news!
*Standard text messaging rates may apply.
---