Curb appeal relates to the attractiveness of your home from the outside. It's often the first impression of a house and critical when you are buying or selling. It includes landscaping, the fixtures, mailbox, fence, and the external color scheme. As industry leaders in metal roofing, we understand the importance of the roof's color and how it impacts curb appeal. We've compiled some information to help make it easier for you to choose.
Getting the Most Out of Your Money
Before we start taking you down a colorful path, let's quickly discuss what's important — roofing as an investment. Roofing Magazine reported on some information gathered by a research company who asked focus groups their thoughts on a home's roof. They asked homeowners and professionals such as real estate agents to contribute answers. An overwhelming 91% of real estate agents and 94% of homeowners believed that a color coordinated exterior critically affects the perceived value. What does color mean for your return on investment? Choose wisely, and you can attract more buyers.
Metal roofing lasts for decades. It's one of the reasons homeowners turn to it year after year when it's time for a new roof. It has excellent properties that help it withstand the weather, keep your home energy efficient, and is recyclable. It's also available in a range of colors to compliment the exterior.
During the installation, it's not uncommon to rely on the expertise of the contractor. The contractor's role is to provide you with the experience and knowledge to install your roofing system appropriately. They will have information regarding color choices that can help in energy efficiency. Metal roofing comes in a wide variety of colors that can accentuate your home. The research from the focus group didn't say certain colors were better than others. The information only highlighted the importance of the colors being complementary. Don't fear bolder choices if they will enhance the exterior of your home.
Choosing a Metal Roofing Color
Choosing the right color for your roof doesn't have to be daunting but should be done with some consideration. There are some ways to make the selection process a little simpler. Over the years, we've installed our metal roofing system on dozens of homes. Here are some of the best tips we have for making the best choice.
Find Inspiration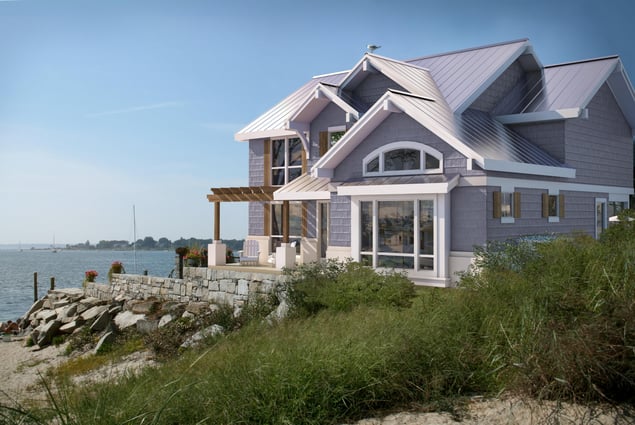 Certain exterior elements are great for guiding your selection. Inspiration can come from the facade materials. Are they stone, brick, or shingles? Use the substances on the structure to assist you. They can't be replaced, so you can work with what you have to find something beautiful. There are other ways to find inspiration. Chances are there are other homes in your area that have the same colors. You could take some time to drive around and note which ones you like best and why. There is always Pinterest if you'd rather stay inside. The social site offers up a lot of color combinations that are useful for homeowners.
Tonal or Contrast Colors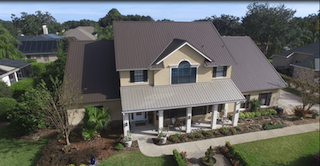 Bringing colors together takes some skill. There are a couple of tried-and-true methods that will give you good results. Contrast colors would be either pairing light with dark or two colors on the opposite end of the color wheel. There's no need to go overboard, so we would recommend sticking with bringing light and dark together. An example would be a cream-colored exterior paired with a dark green or charcoal roof. The result is very dynamic. The other option is tonal. Tonal refers to the application of very similar colors. It's another option that is pleasing to the eye. It would include having a red brick home paired with a red roof.
Consider Your Location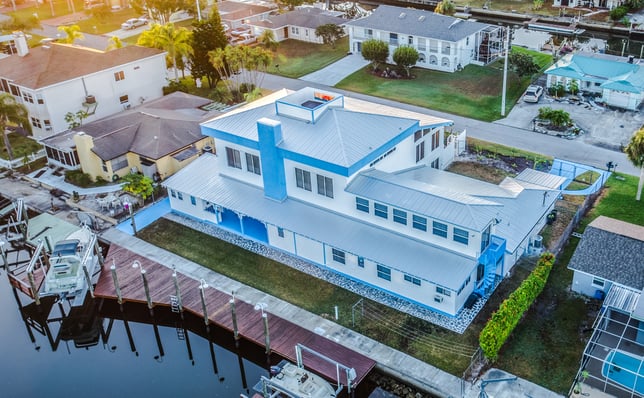 When we say consider your location we mean it a couple of different ways. The first would include the direction your house faces and its relationship with the sun. When picking a color for your home, you should analyze how it might look at different times of the day. Brighter metal roofing panels are energy efficient but if they might blind you and your neighbors, maybe consider something a little softer.
StealthBond®
We believe in choices at StealthBond®. It starts with a superior metal roofing system that provides a clean, sophisticated look because it doesn't require fasteners. Then we add in personalization. From various panels and to different color choices, we want to make it possible to implement a roofing system that not only outperforms in durability but in style.